I have been excited to be a part of this project with the Floating Lab Collective.  From the Floating Lab Collective's project website,
"The ReMuseum is a participatory, mobile experiment that investigates museum processes such as collecting, displaying, valuing and commodifying objects…"(visit site)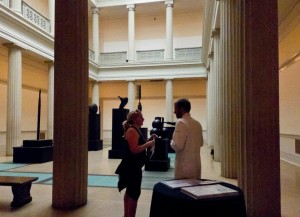 Working with community members in DC neighborhoods such as Deanwood, Brentwood, Petworth, and Anacostia, the Floating Lab Collective "mobile curator" helped identify objects of personal value to that were then replicated on large and small scales.  Objects and their oral histories are displayed inside a re-purposed taco truck and inside the Corcoran Gallery of Art.  Visitors to the ReMuseum are invited to redistribute small, casted replicas into their home communities.
Curated by Laura Roulet, the project is part of the DC Commission on the Arts and Humanities's 5×5 public arts initiative, "twenty-five groundbreaking temporary public art installations that will be installed concurrently throughout the District of Columbia." (DCCAH website).
For more information about the ReMuseum and to feed back into the project with your own images of objects in new places, visit www.floatinglabcollective.com.